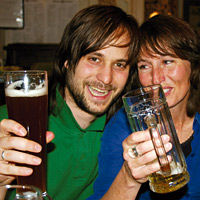 Author :
DPA
Addis Ababa - When he was 35, Martin Kuster asked himself what he calls the typical Western question: "When you have everything, what comes next?"He had a good job, security and a cushy life in Munich, but he needed more.
Three years later, he finds himself in Addis Ababa, Ethiopia, having left his life in Germany, dropped the umlaut from his surname and moved here to find what was missing. Kuster says he wanted to fulfil his dreams of opening his own business but never thought that would get done in one of the world's most impoverished countries, with a sluggish bureaucracy and a challenging business climate.
"The first time I visited in 2001, I couldn't handle it. Everything was dirty and different from what I was used to," said Kuster, 42, who labelled himself a "typical European yuppy" before his move to Ethiopia. Kuster, who has an Ethiopian wife who fled the brutal Derg regime in the 1980s, said his perception of doing business in the country changed at a beer garden in Munich. He sat drinking strong Bavarian brew at a festival with a group of Ethiopian friends, and then the idea came to him. "I saw how they enjoyed the Bavarian culture, with sausages, beer, and all that. And at that moment the idea came up. I said, 'Aha! A German restaurant,'" said Kuster, originally from Ingolstadt. "I was set on the idea and there was no way out," he said.
He convinced his wife, who was perfectly happy to remain in Germany, that it was time to return home and in 2005, the doors to Munich Goes Ethiopia were open. But setting up shop in a country so different from his own was not easy, Kuster said, adding that he didn't take into account the slow pace of business in Ethiopia or that much of his imported goods would get stuck in customs - a miscalculation that cost him time and money. Nonetheless, he brought a part of Germany to Addis Ababa, serving roasted pork and other Bavarian cuisine alongside local Ethiopian beers served in chilled one-litre mugs in a beer tent. But another venture soon called his name. Prodded by a visiting friend to open a breakfast joint, Kuster's imagination was piqued and he soon set up Mr Martin's Cozy Place, a quaint bed and breakfast which at first served German grub but now is mostly a bar and cafe, with cheap, clean rooms that attract the backpacking crowd - particularly Germans.
Like many businesses in the Horn of Africa country, getting this one on its feet was a challenge. "I thought I would have to give up everything and become a taxi driver," said Kuster, who had sold the restaurant a year after opening it due to "shareholder differences."Sure enough, the Cozy Place picked up and Kuster could begin focusing on what he really wanted to create: a wellness centre. Four months ago, in the heart of Addis Ababa, Kuster opened Happy Up, a 24-hour spa that provides massages, a sauna and other treatments. It's an unexpected business in a country where more than half the population lives on less than two dollars a day, but Kuster said the demand is there and having attempted to open businesses in the city before, he was sure he could achieve this goal.
"There is growing need for wellness centres in Addis Ababa. The concept here is total recreation," he said, sitting on one of the green and orange couches in the spa's brightly lit waiting room, as soft classical music played in the background. Beyond the entrepreneurial skills he acquired from owning and operating three businesses, Kuster said he has grown as a person in Ethiopia, in a way that would not have been possible in Germany. "In Germany I was 120 kilograms. I took tablets for gastroenteritis. I was nervous. I couldn't sleep. I had problems," said Kuster, sitting in a blue and white checkered bathrobe after a jaunt to the sauna at Happy Up. "I had all these financial problems here, but I slept well. After three months I threw all the tablets away."So despite the headaches of investing in a developing country, Kuster's feet are firmly planted in Addis Ababa, with his wife heavily pregnant with their second child and "more ideas" coming to Kuster with every week. "The positive personal change is outstanding. Things have finally come into place."
http://www.earthtimes.org