HRLHA Press Release: Victimization of Refugees Continues in Puntland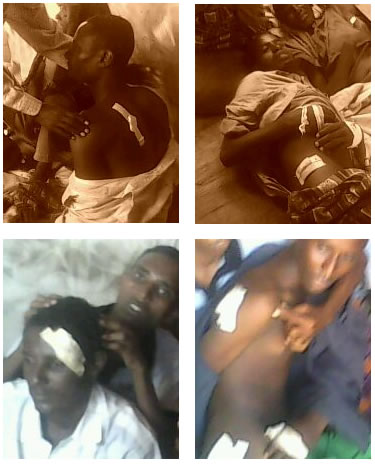 HRLHA Press Release No21
December 2009
Victimization of Refugees Continues in Puntland

According to documents obtained by HRLHA from its reporters in Bosaso, Puntland, a refugee has been killed and twenty six others injured on December 1st 2009 at around 7:30 PM with what was believed to have been a hand grenade thrown by unidentified group of people. This attack, which happened in the town of Bosaso/Puntland, Halo Kismayo #1 area, only three weeks after the gunning down of two Oromo refugees in Garoowe/Puntland, targeted Oromo and Somali refugees from Ethiopia who were at the time watching television at a local snack bar. Among the twenty six wounded refugees were eighteen Oromos and eight Somalis.
According to some eye witnesses, the culprits arrived at the site of the attack in a car and drove away in the same vehicle after committing the attack. The attack claimed the life of one Somali refugee, while injuring twenty six others. The death of this Somali refugee and that of Mrs. Samira Ahmed Musa, a mother of five who was gunned down in her own temporary shelter in Bosaso, on 23rd on November, 2009, brings the total number of the victims of extra-judicial killing in a one month time to four. The killing of Mrs. Samira Ahmed Musa, which came following that of her husband a year ago, leaves behind five orphaned children refugees.
Among the injured were: Among the injured were:


Name - Sex - Age - Birth - Place
1 Abdo Fita Aba Fogi - M - 22 - Jimma, Daddo
2 Mohamed Kedir Kamal - M - 32 - Arsi ,Robe
3 Mustafa Aba Tamam - M - 23 - Jimma Agaro
4 Rais Aba Sinal - M - 25 - Jimma, Limmu
5 Tahir Bashir Abdurahiman - M - 18 - Bale, Agarfa
6 Awel Kaliga Aba Adi - M - 20 - Jimma, Daddo
7 Tahir Kedir abba Simbo- M - 25 - Jimma, Sigmo
8 Kalid Aba Jabel - M - 30 - Jimma ,Saka
9 Bonsa Gada Badada - M - 28 - Jimma, Daddo
10 Jamal Shihasan Mohamed - M - 30 - Harar, Haroo
11 Gale Aba Ware - M - 27 - Jimma, Deddo
12 Abdu Geder Abba Goro - M - 25 - Jimma, Sigmo
13 Nazimo Sado Abdulahi - M - 32 - Jimma, Limu
14 Abdulkader Aba Chafa - M - 35 - Jimma, Agaro
15 Badada Gemechu Tola - M - 28 - Wallega, Buluk
16 Birhanu Bati Ragassa - M - 23


Among the injured refugees


According to HRLHA reporter, the refugees in Bosaso, Puntland have high suspicion that the Ethiopian TPLF-led government has been behind those attacks with the approval of the local government. The suspicion is very likely; given the way the attacks have been planned and carried out.
The Human Rights League of the Horn of Africa would like to express its deep concern over these continued attacks and extra-judicial killings against defenseless refugees. It is a saddening irony that refugees are met with such fates in a country where they should have been offered the maximum security possible under the protection of not only the host country but also international bodies such as the UNHCR. It is more saddening that this is the very
reason why those refugees fled their homelands in the first place.
HRLHA would like to draw the attention of the government of Putland State of Somalia as well as other regional and international bodies to these worrisome situations of refugees in Putland State of Somalia. It would also call upon the Putland State of Somalia government to take all necessary legal actions to bring the perpetrators of these crimes to justice in a way that the safety and protection of other refugees in the country could be guaranteed.
Background Information: HRLHA reported in February 2008 in its No9 Press Release that 65 Oromo refugees from Ethiopia were murdered and more than 100 others were seriously injured when two grenades were thrown at two different hotels owned by two Oromo refugees, Melaku and Jamal Arsii, in port town of Bossaso in Puntland State of Somalia.
The HRLHA is a non-political organization which attempts to challenge abuses of human rights of the people of various nations and nationalities in the Horn of Africa. It works on defending fundamental human rights including freedoms of thought, expression, movement and association. It also works on raising the awareness of individuals about their own basic human rights and that of others. It encourages the observances as well as due processes of law. It promotes the growth and development of free and vigorous civil societies.